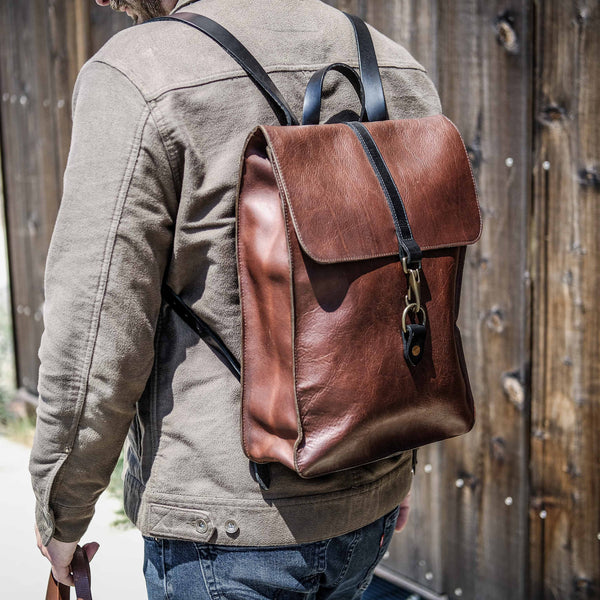 This backpack was designed to have the perfect blend of style and functionality,  with a fold-over flap that secures with quick buckle clasp, ensuring that all your belongings are safe stowed.

The interior of the backpack features a wool felt laptop sleeve that fits up to a 16" laptop, providing padded protection. The backpack also has plenty of room for all your daily essentials, including books, notepads, and other personal items.
Crafted with our premium full-grain leather, it not only looks and feels great, but the bag will age beautifully over time as it develops a rich patina. Finished with brass hardware and copper rivets, the true craftsmanship of this bag is seen in the details.
This timeless piece is an investment that will only get better with age, and is sure become a treasured item in your collection for years to come.
FEATURES

- 4oz Full-grain oil-tanned leather body
- 8oz Full-grain bridle leather straps
- Wool felt laptop sleeve (fits up to 16" laptop)
- Copper rivets
- Brass hardware
- 1 Main compartment
- 2 Zipper pockets, 1 small pocket
- Adjustable shoulder straps

SPECIFICATIONS
- Dimensions: 15.5" x 12" x 3.5"
- Handcrafted at our partner workshop in León, Mexico